Feedback through collaboration helps participants create strong portfolios of evidence to earn micro-credentials.
Tips for Asking for Feedback from Peers
The BloomBoard Coaches have created an Artifact Feedback Template that will help you, as the earner, request specific and targeted feedback from your peers.
The Protocol column describes the process through which educators share evidence and receive feedback from colleagues. The educator seeking feedback will use the Presenter Actions column to prepare for and record notes during the feedback session.
You can download a copy of that template here.
Protocol

Presenter Actions

Purpose: Set the stage.


Preparation: choose an artifact and provide
any relevant info about the artifact you are
presenting for feedback.

Artifact Focus:





Context:

Purpose: Provide the lens.


Preparation: provide participants with the
competency indicator that you would like
them to focus their feedback on and provide
them with at least 2 explicit questions that
you need/want to be answered.

Indicator Focus:





Question 1:





Question 2:




Purpose: Discuss.



Peers relay specific, actionable feedback
related to the specified indicator and
questions.





Feedback Notes (record
information received during
feedback session)
Tips for Preparing Feedback for Peers
When a participant shares an artifact for feedback, your goal should be to provide specific and targeted constructive feedback to help them focus their artifact to meet the artifact's competency indicators.
Considerations while formulating your feedback:
Be specific to the competency indicators or artifact instructions when providing feedback.



Use open-ended questions or statements that begin with the following words:
why, how, what, describe, explain

tell me about...

what do you think about…

I wonder if…


Probe for clarity: do you mind clarifying… could you clarify what you mean by...


Ask for next steps.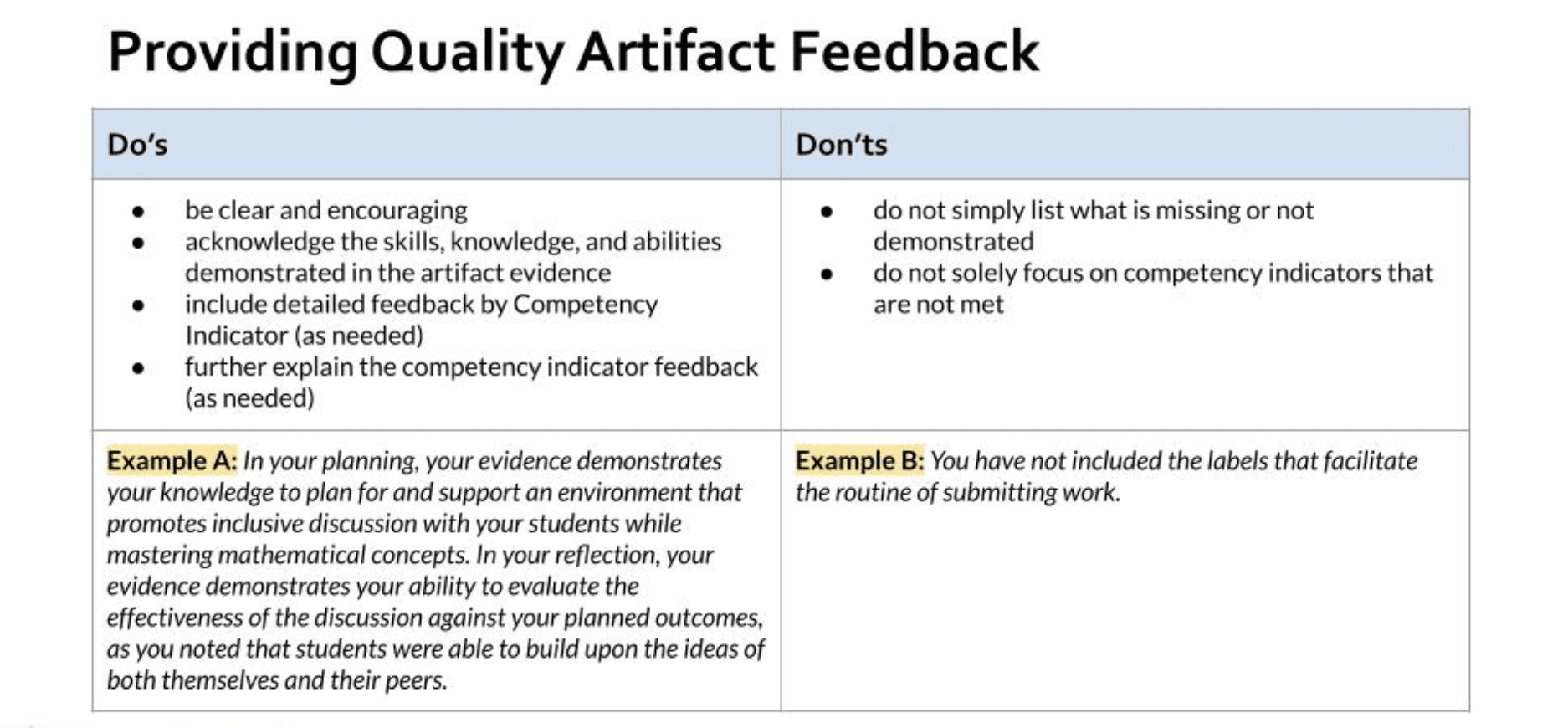 Please reach out to your BloomBoard Coach for additional guidance on giving and receiving Artifact Feedback with your peers.
If you are completing university courses, you should reach out to your assigned faculty member with these types of questions.