External Technology to Enhance your Experience
The BloomBoard platform accessed through the internet on a computer is designed to contain all the resources and support to complete your chosen program. There are additional tech resources beyond the computer that can enhance your experience if you so choose. Below you will find information and suggestions for utilizing these optional resources.

External Monitor
Many platform users depend upon a laptop or Chromebook to access micro-credentials and join Zoom sessions designed to support their work. Having an external or separate monitor may enhance your experience, especially if your primary device is a smaller screen. While not required, it is something you may want to consider to enhance your experience. Separating the Zoom window and browser windows on two separate screens is preferred by some participants. If however you have a single monitor, you can refer to this article to view tips for maximizing your online experience.

Webcam
Using a webcam during Zoom sessions will maximize the experience and support participation with others in the session. Many laptop computers come equipped with a webcam. If either you do not have a built-in type webcam or you find the one you have is inadequate, you can purchase a plug-and-play type device that can also double as a video camera by flipping the device to face the group you want to capture in the video. If you plan to use the webcam as a video recording device, review the webcam specifications to ensure adequate quality and recording features.

External microphone
A common required artifact is a video or audio recording. It is essential that the recording captures the voices of all participants. Most computers and smartphones do not have the capability to capture quality audio from a distance. Therefore, consider using a plug-and-play type of microphone that can seamlessly connect to a smartphone, PC, or tablet (not omni-directional).
If you work with younger students, you can use a clip-on microphone like the one pictured below and attach it to a stuffed animal or object that students can easily pass off to another student when it is their turn to speak. This will enhance your ability to capture quality audio in all video and audio recordings.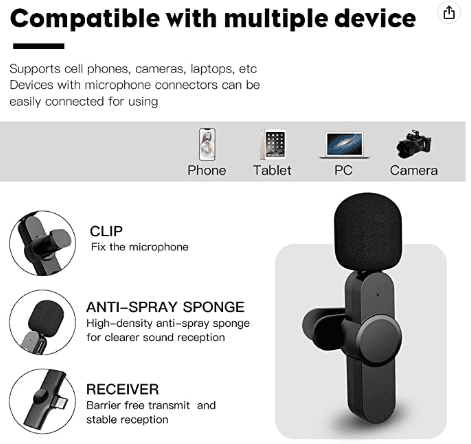 Video Recorder
Professional video recording equipment is not needed to capture evidence for an artifact. You can use a smartphone camera or webcam to capture video. Using an external microphone will enhance the audio quality. Many schools and/or media departments have staff to support your use of audio/visual equipment. Consider reaching out to others within your organization if you need support.

Tripod
If you are using a handheld device, it is recommended that you use a tripod for stability. Whether you choose a table-top style tripod over a taller one is really about personal preference and finding the solution that works best for you. Talk with others to see what solutions they may have tried or found success using.

Preferred Internet Browser
BloomBoard works best with the most up to date version of either Chrome or Firefox. To ensure your browser is up to date, please visit this website whatismybrowser.com.

Accepted File Formats
BloomBoard accepts the following file formats:
| | |
| --- | --- |
| Image | jpg, jpeg, heic, gif, svg, png |
| Video | 3gp, avi, m4v, mov, mp4, webm, wmv, mkv |
| Document | doc, docx, ppt, pptx, pdf, xls, xlsx, pages, odt, csv |
| Audio | aac, ac3, aif, au, flac, mp3, m4a, mpga, oga, weba, wma, wav |
*Always practice and test your equipment before capturing evidence to ensure that the quality will meet BloomBoard's standards defined within the micro-credential artifact.
For more information and video upload tips, you can view this article Video Tips (Model 6)
For recommendations on external technology, please reach out to your BloomBoard coach or assigned university faculty member.